You may have heard about McDonald's new supersize drink that they refuse to admit is a supersize drink. Hugo (no relation to Lost) is the latest hypocritical atrocity from the Golden Arches. Guess it didn't take them long to depart from the "we're healthier now, honest" marketing of late. The Hugo contains over 400 calories (that's a meal right there). At 42 ounces, this corn syrup catastrophe is priced at less than one dollar. It's the special obesity value menu.
Hugo derision is already all over the health and consumer blogs and social networking sites (here, here, here, here, and here…and here). It remains to be seen what sort of impact (if any) the blogosphere will have in garnering public outrage over Hugo. But let's think about this from a different perspective. Everyone cheered when McDonald's canned its Supersize menu. Supersize-in-disguise Hugo is drawing plenty of flack.
But why pick on Hugo? The following drinks are:
– just as high, or far higher in calories than Hugo
– are massively popular and are consumed by millions daily
– are equally unhealthy
– are much more expensive – so you can be fat and broke
– and yet…they garner zero public outrage!
It's too easy to pick on McDonald's and everyone does. But where is the outrage over:
Starbucks: their much-loved grande frappuccinos and creamy "fruit" whipped delights are almost all in the 500+ calorie range and pack upwards of 80 grams of sugar (easily rivaling any decent milkshake – because these are milkshakes).
Jamba Juice and Robeks: these "healthy" fruit juice smoothies are entirely comprised of worthless, sugary juice, ice cream, sorbet or yogurt, and can top out at over 600 calories and 140 grams of pure sugar!
Even a McDonald's milkshake has less sugar than a "healthy" smoothie. I don't see anyone fretting over coffee drinks and fruit drinks that are terrible for health. In fact people seem to feel good about slurping these sugar buckets. We are drinking excessive, empty calories without so much as a second thought.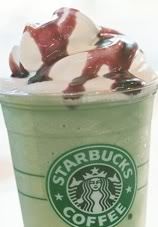 I'm no advocate of McDonald's, and the new Hugo is both unethical and hypocritical, but let's not pretend a coffeehouse with "culture" or a few pictures of strawberries are any better.
Technorati Tags: counter-marketing, Hugo, Starbucks, calories, sweetener, beverages, obesity epidemic, McDonald's, Robek's, Jamba Juice