Timex Ironman iControl Watch Review (Better Late Than Never)
Posted By Aaron On August 21, 2007 @ 7:14 pm In Fitness,Health,Men's Health,Reviews,Women's Health | 2 Comments
Timex [3] recently asked us to review their new iPod-compatible Ironman i-Control sports watch. We've been having so much fun using these watches, we decided we ought to tell you all about them! (Sometimes we get products that are just not up to snuff, so we don't tell you about those.)
You may remember my recent roundup of the absolute best fitness gadgets [4] whether you are barefoot running [5] or working out on the go (if you haven't read these popular posts, you should!). I'm always on the lookout for new gear to improve my exercise experience. I also recently purchased my first iPod, so this smart watch came…just in time (cue groan at the pun).
What this is:
Timex Ironman i-Control watch (for iPod)

You work out. You wear a sports watch while you do it. You like to listen to music, too. Why not make this more convenient? Forget the clips and cords – the Timex Ironman i-Control allows you to do all the things you'd normally do with a sports watch, plus control your iPod wirelessly.
Why it's different from other sports watches:
In addition to controlling and shuffling songs from your watch, the i-Control is slimmer than most sports watches. I personally like that, although it might not suit your style.
How it works:
This watch is a standard sports watch with all the typical functions (Indiglo, countdown timer, alarms, interval timers, workout log, water-resistant). It is really intuitive and simple to program and use. It's also very lightweight and comfortable, much more so than many sports watches. The watch immediately syncs up with your iPod, so there's no frustrating programming or customer-service-hell required to get started!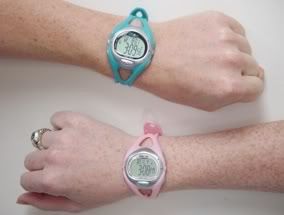 I picked blue; Sara went for pink.
(You can also get the watch in a black/gray combo, orange, or lime green.)
Where to get it:
Major retailers like Target [6].
Our opinion:
If you have an iPod Shuffle, this won't work; but then the Shuffle is quite compact and designed for exercising anyway. The watch is well-made and improves your music-workout experience, but it's a little pricey at $125. If you're a Mac fan and you've recently purchased the iPhone, there are some functional drawbacks to using the i-Control with your phone. But for regular iPods large and small, this is a useful watch. If you are in need of a sports watch, or would like one that is lightweight, and also like the idea of keeping your iPod stowed away in a pocket, it's worth the purchase.
Other reviews in the blogosphere:
Business Wire [7]
Engadget [8]
Gizmodo [9]
Further reading:
Is Intermittent Fasting Healthy? [10]
---
Article printed from Mark's Daily Apple: http://www.marksdailyapple.com
URL to article: http://www.marksdailyapple.com/timex-ironman-icontrol-watch-review-better-late-than-never/
URLs in this post:
[1] free weekly newsletter: http://www.marksdailyapple.com/feeds/?utm_source=wwsgd&utm_medium=intro_note&utm_campaign=newsletter
[2] Primal Blueprint 101: http://www.marksdailyapple.com/primal-blueprint-101/
[3] Image: http://www.timex.com
[4] absolute best fitness gadgets: http://www.marksdailyapple.com/best-fitness-gadgets/
[5] barefoot running: http://www.marksdailyapple.com/even-if-the-shoe-fits-forget-it/
[6] Target: http://www.target.com
[7] Business Wire: http://home.businesswire.com/portal/site/home/index.jsp?ndmViewId=news_view&ndmConfigId=1000001&newsId=20070802005589&newsLang=en
[8] Engadget: http://www.engadget.com/2007/08/02/timex-rolls-out-ironman-icontrol-watch/
[9] Gizmodo: http://gizmodo.com/gadgets/review/hands-on-the-timex-ironman-icontrol-verdict-great-but-285034.php
[10] Is Intermittent Fasting Healthy?: http://www.marksdailyapple.com/fasting/
[11] The Case Against Cardio: http://www.marksdailyapple.com/case-against-cardio/
[12] Mark's Daily Apple feeds: http://www.marksdailyapple.com../../feeds/
Click here to print.