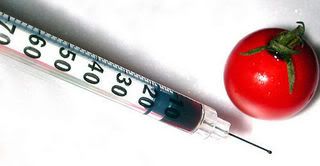 Simple observation: As cosmetic procedures grow in both popularity and efficacy the number of people that look fit but are in fact unhealthy will rise. This is a version of the skinny-fat phenomenon. The day when chiseled abs and calves of steel are no longer fair measures of fitness is upon us. This LA Times article got me all riled up this week:
COME in on your lunch hour, have a few injections and melt away those stubborn bulges of fat. That promise has made injection lipolysis — also called lipodissolve and mesotherapy — one of the fastest-growing cosmetic procedures in the country, with centers sprouting up almost as fast as Starbucks stores. Nevermind that neither the procedure nor the drug cocktail used has FDA approval. Nevermind that Kansas and Nebraska are trying to ban the procedure. Nevermind that the American Society of Plastic Surgeons and the American Society for Aesthetic Plastic Surgery do not condone the procedure. Nevermind that the procedure has been banned in Brazil, Canada and England.

People want a better body now.