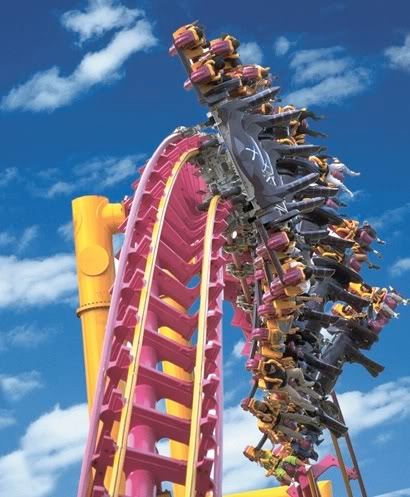 Yo! Sara here. We're going to take out these overblown urban legends of health faster than a cheese plate. Hang on!
1. Do roller coasters get your heart pumping hard enough for a heart attack?
Yes, but…
In a recent study, researchers found that it's entirely possible for a roller coaster to get your heart pumping over 200 beats a minute. In fact, fully half of us experience irregular heart rhythms after hopping on the thrill ride du jour. And the fastest pumps happen in the big climb to the top. Despite these stats, the incidence of actual heart attacks is incredibly low: in 10 years of millions of coaster rides, there were only 29 deaths, and only 7 of these were because of cardiac events. A preexisting heart condition increases your risk, of course. Translation: the roller coaster of love is probably far more brutal on your heart than any new offering from Six Flags.
(Thanks to editor Emily at Slate for the HT!)