Add More Fat to Your Diet in 1 Easy Step
Posted By Sara On August 30, 2007 @ 2:27 pm In Carbs,Diet,Fat,Health,Nutrition,Smart Fuel,Weight loss | 8 Comments
Sara here. As many of you know, I eat a lot of fat on a daily basis, and one way I accomplish this scandalous health goal of mine is to add nut butters to my meals. Reader Donna got me hooked on cashew butter atop fried eggs (I fry them in butter or – ready for this? – bacon grease, to maximize the morning fat intake). If you're not appalled yet, please keep reading, because it just. gets. worse. I am not a huge fan of olive oil. I think it tastes good, but I prefer savory, spicy, or earthy flavors to olive oil. To that end, I use organic raw almond, peanut, and cashew butters to fatten up my broccoli, brussels sprouts, and eggplant. I also really like that nut butters have some protein and fiber in addition to the fat, unlike vegetable and seed oils. But mainly, I just like having another interesting way to get fat in my diet.
The human body (especially the brain) requires fat [3] to work properly. Fat – and I'm not talking about those nasty fried fats [4] – helps regulate your mood, sharpens your thinking, and reduces your risk for dementia. Aside from that, fat helps you absorb critical nutrients and digest food properly. And did you know that our cells [5] are made of saturated fat? While a high-fat diet may not be right for you, it certainly works for me. I blame the nut butter.
Back when I followed a devout low-fat [6], grain-based diet, the situation wasn't nearly so healthy (read my story [7]).
Here are some helpful links:
I'm not making it up: fat is healthy! [3]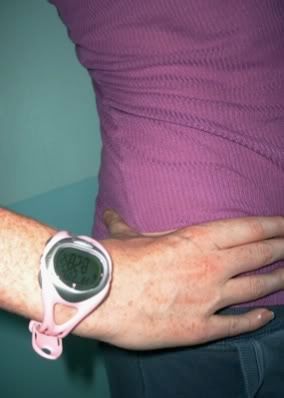 (Would ya look at that gut? And I'm still havin' fun with the iControl watch! [10])
---
Article printed from Mark's Daily Apple: http://www.marksdailyapple.com
URL to article: http://www.marksdailyapple.com/nut-butters/
URLs in this post:
[1] free weekly newsletter: http://www.marksdailyapple.com/feeds/?utm_source=wwsgd&utm_medium=intro_note&utm_campaign=newsletter
[2] Primal Blueprint 101: http://www.marksdailyapple.com/primal-blueprint-101/
[3] requires fat: http://ezinearticles.com/?Can-a-High-Fat-Diet-be-Healthy?&id=692490
[4] fried fats: http://www.marksdailyapple.com/deep-fried-wonders/
[5] cells: http://trusted.md/blog/vreni_gurd/2007/04/06/saturated_fat_the_misunderstood_nutrient
[6] low-fat: http://www.foxnews.com/story/0,2933,184409,00.html
[7] read my story: http://www.marksdailyapple.com/lipid-phobe/
[8] Nut butter recipes: http://www.foodnetwork.com/food/recipes/recipe/0,1977,FOOD_9936_24830,00.html
[9] Buy cashew butter online: http://www.nextag.com/cashew-butter/search-html
[10] iControl watch!: http://www.marksdailyapple.com/timex-ironman-icontrol-watch-review-better-late-than-never/
[11] Mark's Daily Apple feeds: http://www.marksdailyapple.com../../feeds/
Click here to print.