What – Lardsicles Didn't Have Enough Carbs?
Posted By Mark Sisson On November 20, 2006 @ 8:01 pm In Big Agra,Carbs,Health,Humor,Most Popular Posts,Sisson Said What?,The Sisson Spoof | 4 Comments
Just when I think I've seen it all, along comes fried Coke. Earlier this year I saw a major Southern California "quick service" food chain promoting their deep-fried fries. That's right – fries that are breaded and … fried.
I barely had time to recover from that one before fried soda burst onto the scene in several versions. There are fried Coke rings, in which the corn-syrup liquid is frozen, breaded in some variation of corn starch, and deep fried in (of course) corn oil.
The article linked below highlights what appear to be deep-fried Coke bonbons. Fortunately, they are drizzled with syrup and powdered sugar, thereby accelerating consumers from mere obesity, diabetes and heart disease to plain old death. I'm glad to see that science and the spirit of innovation are alive and well across our great land. Of that, we can be proud. Besides, next year, plans are in the works for a version that really keeps your health in mind:
"Next year's fair-goers can look forward to fried Sprite or — for those watching their weight — fried diet Coke."

Here's the clickativity [3] for the above quote and the story.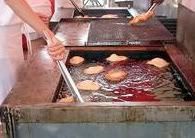 Technorati Tags: Coke [4], fried Coke [5], trans fat [6], deep fried food [7], corn [8]
---
Article printed from Mark's Daily Apple: http://www.marksdailyapple.com
URL to article: http://www.marksdailyapple.com/fried-coke/
URLs in this post:
[1] free weekly newsletter: http://www.marksdailyapple.com/feeds/?utm_source=wwsgd&utm_medium=intro_note&utm_campaign=newsletter
[2] Primal Blueprint 101: http://www.marksdailyapple.com/primal-blueprint-101/
[3] clickativity: http://news.yahoo.com/s/nm/20061027/od_nm/life_coke1_dc
[4] Coke: http://technorati.com/tag/Coke
[5] fried Coke: http://technorati.com/tag/fried+Coke
[6] trans fat: http://technorati.com/tag/trans+fat
[7] deep fried food: http://technorati.com/tag/deep+fried+food
[8] corn : http://technorati.com/tag/corn
Click here to print.