So I was fairly active on this forum, had a journal and stuff, but ended up going pretty much cold-turkey right at 3 months ago. It just seemed like doing the daily journal had become a burden and was just taking too much of my energy, so I quit.
Anyway, this isnít really about quitting and coming back to the forum. Today is my one-year anniversary of going Primal. Iíve detailed a lot of this previously, but basically I had been a competitive endurance athlete, retired and got fat. Decided to get back into shape January 2011 and followed the conventional wisdom for 6 months, losing 15 to 20 lbs. On the advice of a friend I started living Primal on June 1, 2011. Since then Iíve lost 30 lbs more, have been doing a lot of body weight strength training, and have started racing my bike again. So hereís my updated pictures: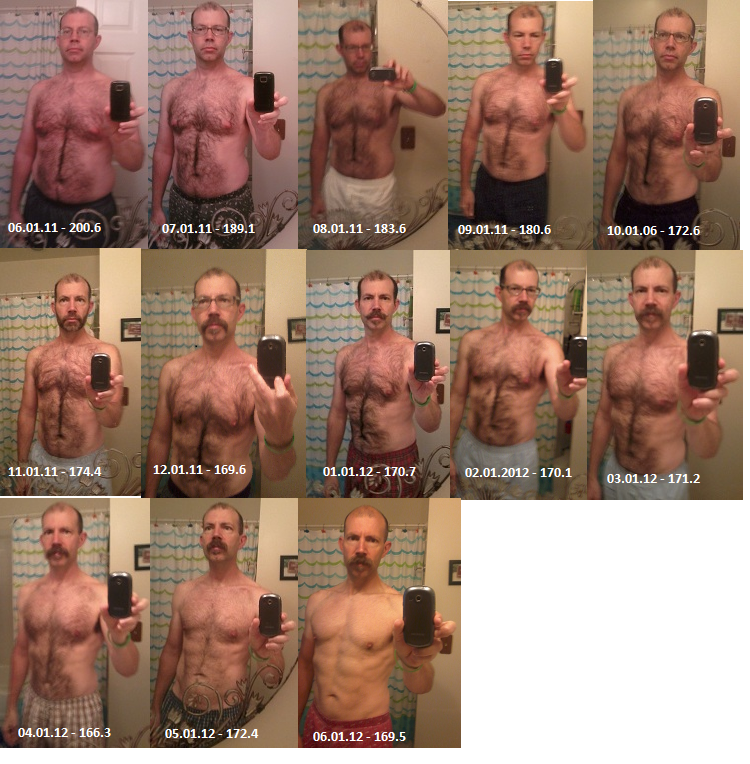 A couple of observationsÖ Iíve been at a stall or plateau on any weight loss for 6 or 7 months, but in that time I think Iíve pretty clearly lost fat and gained muscle. So I guess Iím about where Iím supposed to be. But that makes me think that BMI is not a very good predictor as I vary between about 24.5 to 25.3. Iím always at that high-end of Ďnormalí to just in the Ďoverweightí range, and Iím not very muscular. I canít have that much body fat, though, as I can see my abs. I also donít have that narrow skinny-jeans build, which is I guess what it would take to have a much lower BMI. Also, oddly, Iíve become more convinced that my body-fat measuring scale relies much more on calculations than measurement since my percentage also hasnít changed significantly over the last 6 months. So I guess another example of going by how you feel and how you look over numbers.