I posted this on my SparkPeople blog and thought maybe I should post it here, too. My background is that I've been yo-yo dieting for the last 10 years or so, and this year I started developing gastrointestinal issues, and my mood (I've been prone to mild depression since I was a teenager) was tanking. I also got honest with myself and realized I had developed disordered eating patterns, though I wouldn't go so far as to say I had an eating disorder. I would describe me as a kid as "always hungry" no matter how much I ate. And boy did I have a sweet tooth. I'm 5'7", 28 years old, and started Primal at around 155lbs. Today I'm 148.
(Three pounds of that was water weight, btw.)
I've been eating primal for three weeks. It's worked so well for me. Even the days when I've been stressed to the max and had a billion things to worry about outside of food, it's worked for me. It just kind of fits in with my lifestyle. Some days I eat more, some days I eat less. Some days I have a big breakfast, some days I don't have breakfast at all. Sometimes dinner is big and juicy, other times it's a light broth. As the weeks go by, my "cheats" become fewer and farther between. I can eat a couple hard boiled eggs and they actually take the edge off my hunger. If there isn't anything available to eat that's on my plan, I don't have to eat right away; I can just not eat until I get home, or order a big-ass salad from my new favorite restaurant. I've only had one day when I felt like I could eat anything in sight, and it was mostly because I had been too busy to cook all week and the store was out of my favorite brand of local eggs for some reason.
The thing that really makes me realize that this diet is a keeper for me is that, if I didn't lose a single pound, I'd STILL eat this way. Not only do I feel better (no indigestion!! much more stable moods, much more stable energy levels) -- but it also got rid of my one pet peeve about my body: the tummy pooch.
Yes, I still am nearly 30% body fat if my bioimpedence scale is to be believed. But it's much more evenly distributed now, lol. I don't think I look half bad for having high body fat.
Before, my tummy stuck out more than everything else ("wheat belly" anyone?).
Granted, I'm still a bit too squishy to be comfortable in a bikini at the moment
but feeling confident in normal clothes is a huge step. I've been buying clothes that offset or hide the tummy pooch for years. I may be larger than I was 20lbs ago, but my belly is almost as flat, proportionally speaking, as it was when I was on my hungry-all-the-time, unsustainable diet, at my lowest weight.
Getting to a point where you're happy where you are, where you could maintain it indefinitely, makes sticking to a particular eating plan SO MUCH EASIER.
That said, staying the course has been relatively easy for me, AND it's giving me results.
I've been using a Hacker's Diet-based iPhone app called Fat Watch for about a year now. The long story short is that you weigh in once a day at the same time every day, and it has a bunch of algorithms that graph and smooth out your weight "trend" to compensate for days you might be bloated, days you might be dehydrated, etc. You know, all those little weird scale issues that drive you freaking crazy.
Here's data from the past month, which has been spent 75% primally (three out of four weeks):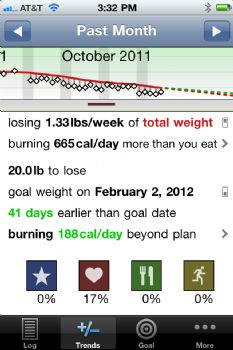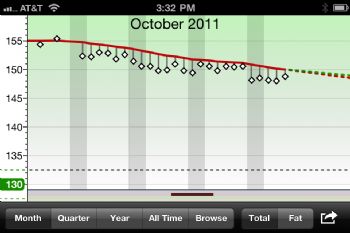 On the graph, the red line is your trend. The dots are your actual weigh-ins. Dots that are "sinkers" indicate that you're losing weight consistently; dots that are "floaters" indicate that you might be slowly gaining weight.
They're ALL SINKERS, baby!!!
I'm interested in seeing how this pans out over the next few months. I think my October weight loss is going to look more accelerated than it actually is due to the 3lb drop in water weight in the first few days of eating reduced carbs.
And of course, the ultimate goal is to lose body fat rather than weight alone. I would like to fit in my favorite clothes again, but I also need to buff up for martial arts (I do kung fu). I've noticed that a lot of people lose weight and get skinny, then ramp up their strength program and gain back pounds but not inches by putting on muscle. That's kind of my long-term plan at this point.
I've had a hard time staying consistent with workouts this month with a) deadlines/work emergencies, and b) fully adjusting to the primal diet. I think I had a bit of carb flu, or just plain wasn't fueling right, in the first week or so of eating Primally because I got incredibly winded and fatigued during martial arts classes. Then I took a week off (deadlines...) and went back again on Tuesday. I didn't have any fatigue issues, so I think I might be past that transitional period.
Anyway, I wanted to give it a full month before getting too excited... but I'm just stoked at how much the Primal diet has helped me already. Now that work deadlines have cooled off, I'm going to be getting back into doing martial arts more often, too. I have really high hopes for adding the physical component in now that I have a better grip on the eating part.