So, I ran across this picture little while back and thought, "Hmmmmmm... meat crust?"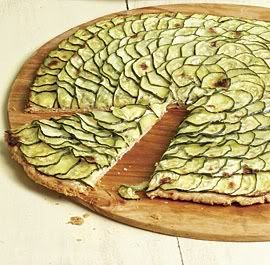 (Original recipe here --->
Zucchini Tart with Lemon Thyme and Goat Cheese - Fine Cooking Recipes, Techniques and Tips
)
So I looked up the recipe...
And then I said... "Yes!"
And I did it... with the chicken sandwich "bread" from another thread as a crust herbed up a little...
(found here --->
http://foodfantabulous.wordpress.com...st-panini-blt/
)
But next time I might just use a straight out chicken or turkey "meat crust", cause I felt a bit guilty with two types of cheese...
And a few other little modifications like using less goat cheese (I sprinkled it on and had some left over... the zing from the goat cheese was in nice pockets) and adding a layer of sweet caramelized onions under the zucchini.
So this isn't exactly a full on "recipe" as just a brilliant idea (IMO) for getting some seriously delicious "veggie pizza" in your mouth.
YUM!
A really great treat.