Whenever I bust out my favorite way to eat a hamburger in front of guests....I have to explain how delicious it is to wipe off the odd stares. Once they try it, they see what I mean. It's like when you first try bologna and peanut butter together (What the?! Oh, that IS amazing!).
If you haven't ever had a burger topped with an egg, bacon, and almond butter then you are missing out on an amazing combination. I first tried it at a burger joint, brought it home, and haven't eaten a burger any other way since.
The original came with a bun and peanut butter (in my pre-primal days) and I was hooked, but able to convert it to more primal fare. This is a treat in our household - only have had burgers twice this summer.
But if you load them up like this, it's probably best to eat them sparingly.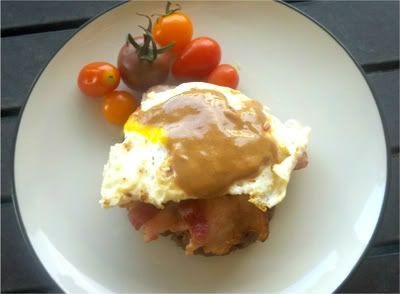 Just make your standard patty (with whatever meat you want and seasonings), grill (duh), and serve with an over easy egg, bacon, and almond butter....YUM! Still giving me an odd stare? Try it and you'll see....
Anyone else have a tasty/odd burger combo?