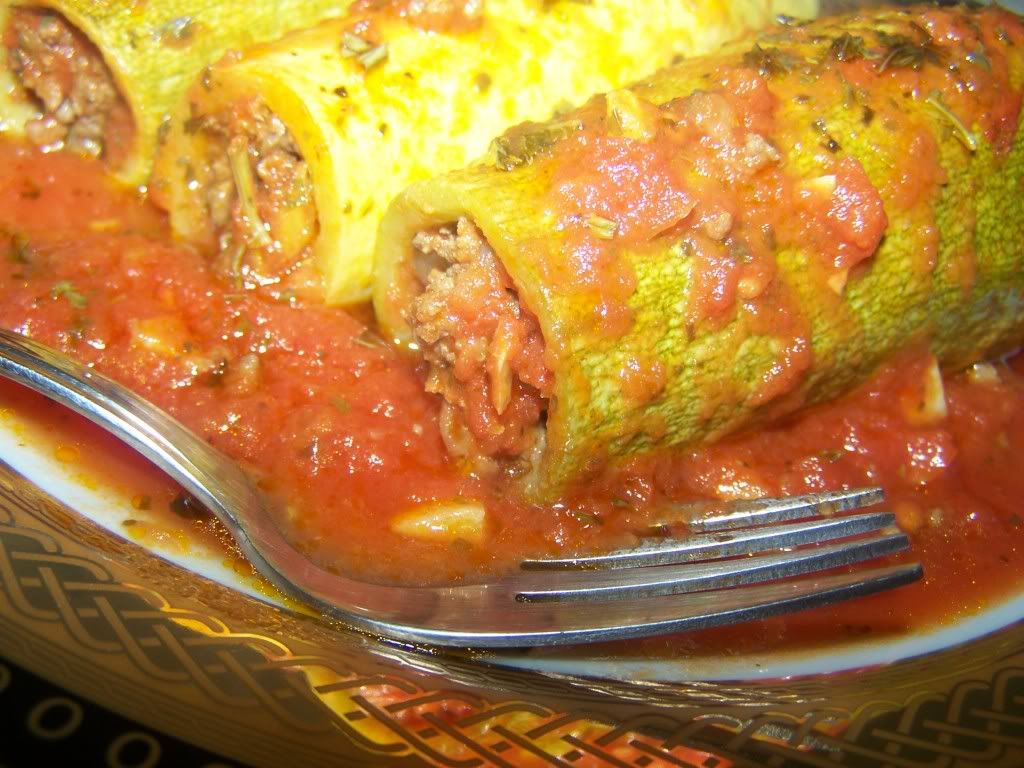 Post link:
http://paleomiddleeastern.blog.com/2...-tomato-sauce/
Stuffed Zucchini is a traditional dish often made for special occasions. Rice is usually an ingredient in the stuffing, as well as Burgul wheat and roasted wheat berries. This is the low carb version. Very delecious ground beef with tomato, onion, parsley and spices baked in mint garlic tomato sauce. I have to say, this was surprisingly GUUUUUUUUUD. Here is what you'll need:
Zucchini
8 Large Zucchinis, I used both green and yellow
vegetable corer*
Clean the zucchini's with warm water. Remove the stem and core using a vegetable corer. This is the time consuming part of the dish, the zucchini's are delicate and you have to core them gently. Make sure you leave at least 1/4 inch of the core left so the zucchini's can hold the stuffing in while cooking. When done, rinse out with water and let dry while you prepare the stuffing.
Stuffing
2 Lbs ground beef
2 TB olive oil
1 medium onion, finely chopped
1.5 tsp all spice
1/4 tsp cinnamon
pinch nutmeg
salt and pepper to taste
1/2 small tomato, finely chopped
1/2 bunch parsley, finely chopped
In a sautee pan, sautee onions on medium high heat in olive oil for 2 minutes. Add beef, all spice, cinnamon, nutmeg, salt and pepper. Cook beef for 10-15 minutes mixing the beef mixture until the water has completely evaporated and meat starts to brown. Remove from heat, add parsley and tomato and allow mixture to cool while you prepare the tomato sauce.
Tomato Sauce
2 (14.5 oz) can diced tomato
1/2 head garlic or 6 large cloves
1TB dried mint
2 TB olive oil
salt and pepper to taste
In a blender, add the diced tomatoes and give it a whirl. If you have canned tomato puree on hand, you can use it.
In a sauce pan, heat olive oil on Medium High Heat and fry garlic until it starts to brown.
Add tomato puree with mint, salt and pepper and allow it to cook for 10 minutes.
Stuffing the Zucchini
Divide the stuffing meat mixture into 4 portions.
Divide each portion into 2 smaller portions. Take one cored zucchini and stuff the meat mixture gently inside. I usually use my hands or you can use a spoon. Make sur it goes all the way to the bottom, but careful not to break the zucchini. The stuffing should reach all the way to the top. Continue with the rest of the zucchini's. If you have left over stuffing add it to the tomato sauce.
Baking
Heat oven to 350.
In an oven roasting pan lined with aluminum foil place the stuffed zucchini's, pour tomato sauce on top and cover with aluminum foil. Bake in the oven for 40 minutes. Remove from oven and transfer to a serving dish.NJOY.
*Here is a picture of a similar corer I use
Dayna's Market - Mediterranean
Here is a youtube video showing you how to core the zucchini's
YouTube - Kussa (Lebanese style stuffed zucchini with rice and ground beef)