There has been a lot of bickering on this forum as of late - even more than usual - and as usual, it's the typical science vs dogma argument. Almost like an act of God, I stumbled across an absolutely fantastic article this evening from a website I've never even heard of. No matter what your position is regarding health on this forum, this is absolutely worth the read.
Magic Pills, Food Villains and the Allure of the Shiny Red Herring
"Carbs make you fat."
Do you see the allure of that statement? It, and "Food Villain" statements like it, allow a person to shift the responsibility for their problems onto an outside entity. Carbs are a wildly popular Food Villain. Other examples of popular Food Villains are: High Fructose Corn Syrup, sugar, wheat, fat, fruit, PUFAs, processed food in general, dairy, animal protein, grains, gluten, starch and legumes. Food Villains are an evolved, more sophisticated form of Magic Pill. In days of yore, it was easier to sell people a Magic Pill that would miraculously cure all manner of ailments, but people are wiser now, and less likely to fall for spectacularly unrealistic marketing claims. Or so they think. Enter the Food Villain.
Food Villain Mythology is usually supported by a handful of (cherry picked) scientific studies and an elaborate and sophisticated web of logical fallacy. The resultant construct usually holds that the Food Villain in question is the root cause of either modern society's obesity and diabetes epidemic, or the root cause of an individual's obesity and illness. There is usually some kernal of truth in the claim.
Take wheat for instance: it is true that wheat can be problematic for some individuals who have an allergy or intolerance, and for anyone who consumes it in excess or to the exclusion of other foods that would provide a more well rounded nutritional foundation.
There are other issues with wheat too, involving it's cultivation, processing, ubiquitousness and nutrient profile.
But Food Villain Mythology has taken those issues and created what amounts to mass hysteria in some circles, with an entire mythology centering on wheat's Magical Ability to single-handedly drive obesity and disease. Scary stuff.
Food Villains are generally foods that can cause problems for some people, under some circumstances. They are factors that can indirectly contribute to illness and weight gain. There is merit to many of the arguments against Food Villains. But Food Villain Mythology morphs those foods into primary drivers of obesity and illness.
This is so very appealing to a desperate and suffering audience. Why? Because it gives them something to blame. It allows them to focus on an outside entity as the source of their suffering. It serves the human need for a Bad Guy.
And shifting focus onto a Bad Guy is bad because…?
Because the REAL primary driver of obesity and illness is human behavior.
Inactivity and poor eating habits specifically: too much or too little food (also known as 'energy imbalance'), inadequate nutrient intake, lack of dietary variety, etc. There is a MASSIVE body of scientific evidence that supports this, it is so overwhelming that The Mayo Clinic, Johns Hopkins, the NIH and the NDIC and countless other credible scientific establishments state definitively on their websites and in their literature that obesity, diabetes, insulin resistance and metabolic dysfunction are caused by inactivity and energy imbalance.
Food Villains are secondary contributors at worst. But they are a bright, shiny red herring that deflects attention away from the big elephant in the room, the primary drivers of obesity and illness: human behaviors. And who wants to focus on the primary drivers anyway? That would require taking personal responsibility for one's own behavior, and doing WORK to change it.
It's so much more appealing to blame the [carbs/sugar/wheat/fat/animal protein/PUFAs/gluten/starch/etc]. This is normal human behavior. We always look for a scapegoat. And Food Villains are a GREAT scapegoat. People get very passionate about their personal Food Villains, so much so that they lash out violently at anyone who threatens their world view that their Food Villain is the cause of all their problems.
You can eliminate every Food Villain in the world (and there are certainly good reasons to eliminate some of them!) but even if all you eat is organic kale and coconut oil, if you ignore the primary drivers, physical activity and energy balance, you will never totally overcome your problems. Likewise, if you optimize your physical activity and correct your energy imbalance, you will be surprised at how harmless most of the Food Villains you've been living in fear of become.
A person with healthy metabolic function can pretty much eat whatever they want and remain healthy. Food Villains, by and large, only become problematic once metabolic function has been compromised. Metabolic function is compromised by inactivity and energy imbalance, not by Food Villains. Eliminating Food Villains treats the symptoms of metabolic dysfunction, not the cause. The cause is inactivity and energy imbalance.
So why do 'they' (ie, the diet book authors and the bloggers) want to keep us fixated on Food Villains and not the primary drivers? Because focusing on Food Villains keeps us sick and fat, and when we're sick and fat, we keep buying their Magic Pills…oops, I mean 'books about Food Villains'.
If a food causes problems for you, don't eat it. It's pretty simple. But if metabolic health is your goal, you must shift your focus away from the secondary contributors and on to the primary drivers, or you will continue to spin your wheels and make the Food Villifiers rich.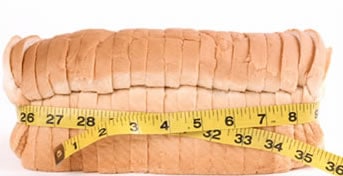 - Bread doesn't make you fat. Your behavior makes you fat. Bread is a red herring.
Magic Pills, Food Villains and the Allure of the Shiny Red Herring
Absolutely brilliant.
This sums up a lot of the problems I see around here when it comes to folks that can't achieve their goals. The Primal Blueprint tends to help people lose weight not because of anything magical about the foods or their carb counts. It tends to work because whole, nutritious foods are more filling than refined, processed foods with low nutrient density. It's really easy to overeat pizza, ice cream and soda. It's harder to overeat steak, potatoes and broccoli.
But sometimes this isn't enough. Sometimes your hunger outweighs your metabolic rate. If that's the case, all the dieting in the world won't fix it. You can briefly starve yourself a little thinner, but that'll only be temporary. The way to succeed is to alter your lifestyle significantly to help balance the energy equation. This means for most of us more exercise and even more careful diet adherence.
The picture of the bread and the quotation is IMO the best part of the article. The funny thing is, there is nothing fattening about bread. There's really nothing in bread to store as fat since it's very difficult to store carbohydrate as fat. So why does bread tend to lead to weight gain?
Because of all the fat in between the bread.
Foods that include bread tend to be high caloric density, low nutrient density and when fat, sugar and starch combine, they create the perfect storm of overeating - they trigger that primal instinct inside us that tells us to overeat and pack on fat for the long winter. When you actually eat a bacon cheeseburger, pretty much the only thing on that bacon cheeseburger not being stored as fat is the bread - the bacon fat is stored as fat, the cheese fat is stored as fat, the oily french fries on the side are stored as fat...the bread goes to glycogen. It just happens that together, that beautiful taste and texture all wrapped up in one convenient handheld caloric disaster goes down so, so easily. Too easily.
Don't blame foods for your struggles. Own your struggles, and make them your bitch!