This post has been A LONG TIME COMING for me.
Okay, you got me. Sensational title alert! But now that I have your attention, I stand by that statement. I honestly do think that grains are not the evil they are made out to be by Primal/Paleo books and websites, and here's the reason why:
Grains are made to be the #1 evil, and people act as if eliminating grains is the biggest step you can take to better your health. I disagree, and I believe that grain elimination is more like #4 or #5 on that list. I think people are so zealous regarding grain elimination because of how counter-culture it is today. Most principles of the Primal/Paleo lifestyles are simple to follow, but HOW AM I GOING TO NOT EAT BREAD? I LOVE BREAD! I think it's the counter-culture aspect of grain elimination driving the hatred towards grains as the ultimate baddie when the facts actually suggest differently. Maybe you'll think differently after this post, too.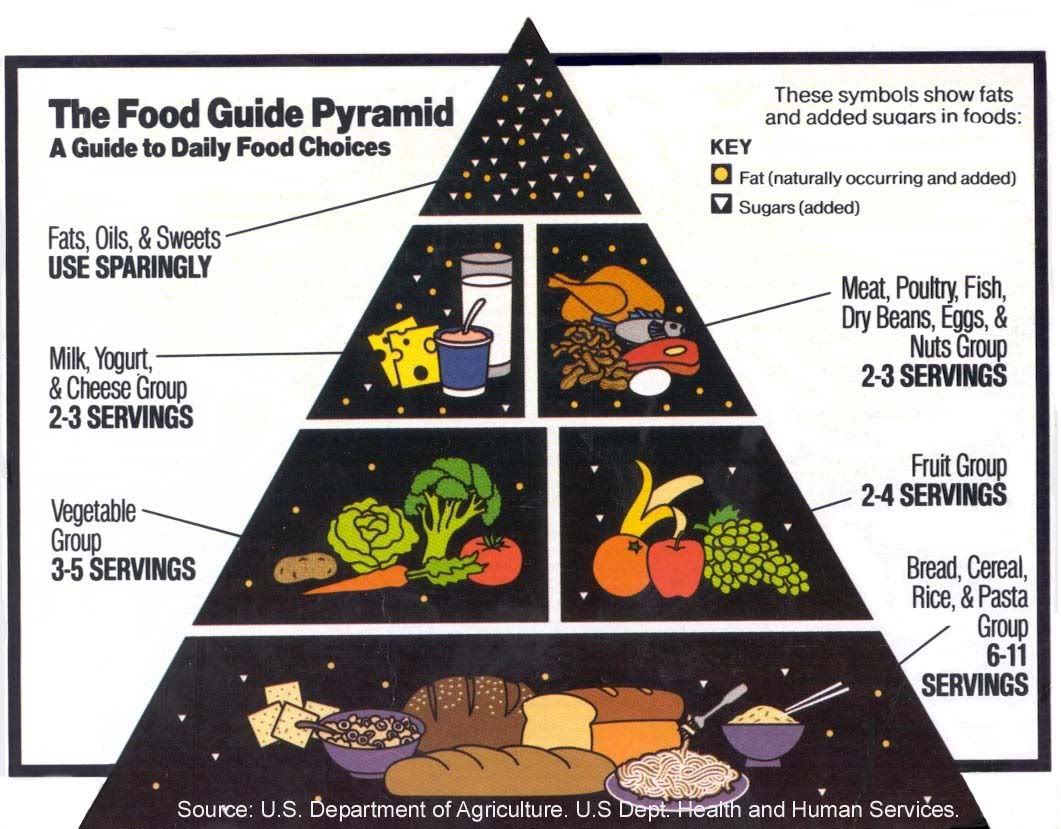 We're all familiar with the Food Pyramid. It's the Standard American Diet - heavy on grains, moderate on fruits and vegetables, low on protein and low on fats. Especially arterycloggingsaturatedfats! The Food Pyramid was adopted in 1980 in an attempt to make America healthier. But how did that REALLY work out?
Does anyone see anything strange, here? Where does obesity take off? 1980 you say?! WHOA! It's almost as if the government gave us BAD ADVICE! Even more interesting is how our food consumption habits have changed over the course of the 1900's.
And how has heart disease changed?
Here is what we know: heart attacks are a recent phenomena. In the 1800's and early 1900's, they were a rarity. Heart disease became a problem post-WWII and they've ever since grown into the epidemic they are today. So what has changed in the American diet from 1900 to 2000? Well, the data may surprise you. Let's analyze the graphs.
The first thing that jumps out is that grain consumption has actually DECREASED in the past 100 years! In 1900, when heart attacks were a rare disease, grains were a larger staple in the American diet than they are today!
So what dietary statistics actually correlate with the rise of heart disease?
1.) Increased consumption of shortening.
2.) Increased consumption of soy oil.
3.) Increased consumption of poultry.
4.) Decreased consumption of (animal) fats.
5.) Increased sugar consumption (to a lesser extent).
And what do these all have in common?
VAST INCREASES OF OMEGA 6 POLYUNSATURATED FATS IN THE AMERICAN DIET.
Here is my personal theory:
We know over half of the cell membrane is comprised of saturated fats. The cell membrane is what protects our cells (i.e. DNA) from damage. It's our protective wall - our shield. Saturated fats make the cell membrane firm and strong. Polyunsaturated fats, on the other hand, are highly unstable. When dietary polyunsaturated fat increases and saturated fat decreases, our cell membranes become more porous and lipid. In essence, polyunsaturated fats cause "cracks" in the shield. These "cracks" allow free radicals to penetrate the cell membrane and damage our DNA. This leads to the diseases we have now known to become common. While we had a diet even higher in grain consumption 100 years ago, much higher levels of saturated fats and much lower levels of polyunsaturated fats in the diet kept our cell membranes strong and protected against these grain toxins. Now, with the ridiculous amount of PUFA's in the American diet, the grain toxins easily penetrate our cells and damage our DNA, leading to the modern diseases we've all come to know.
So based on this, what are MY recommendations in terms of importance for health and longevity?
1.) Remove all PUFA-based vegetable and seed oils from the diet.
2.) Lower polyunsaturated fats to 4% of total daily calories or less (eat more beef and lamb, less pork and poultry).
3.) Increase consumption of saturated fats.
4.) Drop refined sugars from the diet.
5.) Drop grains from the diet.
Yes, I put grain removal as #5 on list of importance for health. Clearly, we were eating grain 100 years ago and it wasn't giving us the diseases of today. I believe that the most important thing to do is make our cells strong, and to do that, we need to remove the PUFA's from our diet, increase the saturated fats, then drop sugars to lower total systemic inflammation. Of course, we should still avoid grains and clearly not make them any sort of staple in the diet, but with our cellular defenses running at maximum strength from a low PUFA/high natural SFA diet, occasional grain consumption appears to be less problematic. Sure, it's less flashy and gives us a lot less attention, but it's what I believe based on my research.
So next time you're at a restaurant and you say "no" to that slice of bread or throw away your hamburger bun yet eat those chicken wings deep fried in soybean oil, you may want to think twice which is really doing more harm to your health.
Discuss.
References:
http://healthimpactnews.com/2011/hea...ur-government/
http://www.ncbi.nlm.nih.gov/pubmed/21367944
http://circ.ahajournals.org/content/123/4/e18.full
http://circ.ahajournals.org/content/...expansion.html