As many of you may know, I've been on a carb refeed kick lately. Come to think of it, you all are probably sick of it by now. While I truly believe that the Primal Blueprint is the ultimate guide to health and well-being, I believe that carb cycling is the most efficient path to weight loss, especially cutting down to very lean levels of body fat. I have written about carb cycling
here
for all to read. I'm going to now put my money where my mouth is. I'm going to post up for all to see a 4 week carb cycling experiment. I will sacrifice my body to science, and everyone will see whether this theory is the golden goose or a pile of goose shit. Here's how the game will be played.
My heaviest workout days will be lumped together. During this lump, I will be eating high carb/lower fat/high calorie. On my low level cardio days and off days - the recovery period - I will be following the Primal Blueprint. I will try to keep my ratios around 60% fat, 25-30% protein, 10-15% carbs on those days, and I will attempt to eat lower calorie. This will give a "carb cycling" and "calorie cycling" effect.
I have been eating high carb on my workout days for two weeks now, but I'm not seeing or "feeling" the results I want to feel. I think the problem is I'm doing a simple 24 hour refeed, packing on water weight and just when I begin to lose some of that water weight, I'm back in another refeed cycle. I'm going to do this by lumping all my refeed days together, then having a 4 day detox to shed the water weight and really see results. Plus, I have a hunch (based on people's plans I've seen in the past) that carb cycling is more effective when you lump it all together, then go several days without many carbs. This will test this theory. So, without further ado, here is my plan:
Monday: High fat/low carb/low level cardio
Tuesday: High fat/low carb/core workout
Wednesday: High fat/low carb/24 hour IF/off from the gym completely
Thursday: High fat/low carb/low level cardio
Friday: Low fat/high carb/shoulders/arms
Saturday: Low fat/high carb/HIIT
Sunday: Low fat/high carb/chest/back
- Low level cardio will consist of a 4 mile jog at a 5.0 mph pace. This will take approximately 45 minutes.
- 24 hour IF's will be a fast from 8pm on Tuesday night til 8pm on Wednesday night. I will eat a smaller meal Wednesday night before bed, and it will be high fat/low carb.
I'm hoping this will show everyone what a carb cycle really looks like. I feel people learn through example better than reading some boring technical article.
I took these pictures right after the gym this evening, so this is what I'm working with: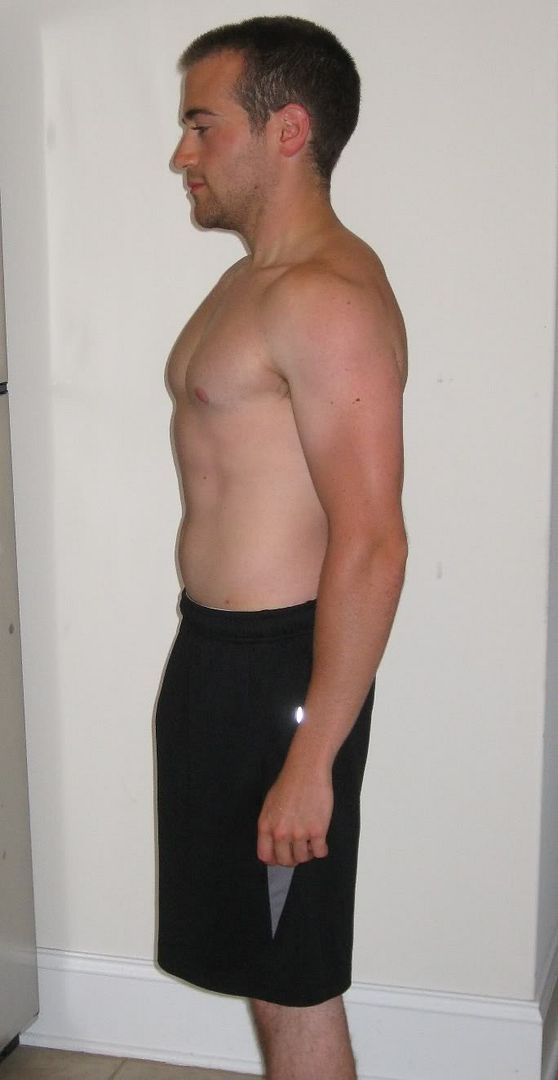 I weighed 138 lbs as of tonight. My guess is I'll have to get around 130 to be as lean as I'd like to be.
The fun will begin on Friday night. Let the games begin.