An Introduction
This post will be long and potentially daunting to read through. I have had several requests to write about this, and I am more than happy to do so. That being said,
I AM NO EXPERT!
I am not a doctor, nutritionist, dietician or body builder. I am fairly lean, but I am by no means impressive. At the time I am writing this, I am a 24yo male who will be turning 25 very soon. I am 5'7" tall, Caucasian (Italian descent), 139 lbs and I am currently sitting in my bedroom 7 minutes West of Philadelphia in a pair of size 29 black Tony Hawk shorts I bought at a Kohl's. I haven't worn a size 29 since I was 14 years old. At this time a year ago, I was about 165 pounds and bordering on a size 34. If I had to approximate my body fat right now, it would be somewhere around 12%. I am an electrical engineer and I'm logical and scientific by nature. What I will write about below are theories I have developed from my own research and personal experience, and while most of it is grounded in science, it will surely be full of my own assumptions and truisms I have developed on my own from these positive experiences.
DISCLAIMER: This guide is written for those that are looking to lose those last 10-15 pounds that just won't seem to come off. This is written for the people trying to achieve very lean levels of body fat, which may be below the average person's homeostasis. This is not written for those with significant amounts of body fat to lose. This method requires you to have balanced hormones and a solid exercise plan. This method may backfire on those with significant amounts of fat to lose because of the stable hormones required. It may also backfire on those that do not exercise, or do not exercise at a high intensity as it requires you to deplete your glycogen stores regularly. For those individuals, I feel that the standard high-fat/mid-to-high protein/low-carbohydrate Primal plan will perform best for them.
Let's get one thing straight: I feel that the Primal approach is the best approach for overall health, wellness and disease prevention. I believe solidly that FAT is the PREFERRED fuel for the human body, and while carbohydrates have a place, they should be consumed in limited amounts. Carbohydrates ARE the biggest problem with the American diet (along with PUFA oils, of course!). That being said, the standard high-fat/low-carb Primal/Paleo approach is not enough for many of us to achieve very lean levels of body fat. For many of us, our body WANTS to hold onto additional body fat, just in case the hunt doesn't go well for a few days. It's a survival mechanism. Maybe your body doesn't want to be 9% body fat. Maybe it wants to be 14% body fat, even if you want to be leaner. There are even people on this site who started out in very good physical condition with plenty of lean muscle mass and - GASP! - GAINED weight! These are the people I am writing this guide for.
The funny thing about this forum is the dichotomy I see between fats and carbs. Most of us spent the majority of our lives fearing saturated fats and eating the Standard American Diet of high carbs and low-fat, processed foods. Now, we have suddenly embraced these wonderful saturated fats! We finally took the "red pill" and have seen the truth about them...but at a cost. Now, we've done the same thing to carbs that we did to saturated fats! We have developed this irrational fear of carbohydrates - that they are evil. Didn't we learn the first time by demonizing saturated fats?! The truth is, carbohydrates as a whole are not evil. They are simply much more complicated than fats. While carbohydrates should typically be limited in intake, using proper amounts of the right kinds of carbohydrates at precisely the right time can be utilized to PROMOTE FAT LOSS. This post will be about the ever-controversial and often-ignored or unheard of topic of the "carb refeed", or as body builders call it, "carb cycling".
This post will be about indulging in carbs, but we can still do this primally. We just have to make the right choices. While it may not be the standard fat/protein/carbs ratios promoted in the Primal Blueprint, even Mark has acknowledged its effectiveness. You may read about it here:
Carb Refeeding and Weight Loss | Mark's Daily Apple
If you are still reading this and want to stay in Wonderland, we'll see just how far the rabbit hole goes. And yes, I do like the movie "The Matrix".
My Story
I already listed my size and measurements above. I grew up in a large Italian family. I ate pasta and/or bread on a daily basis. I rarely ever ate processed junk. Mom and grandma cooked all my meals for me. Because of this, I never got "fat", but I was always a chubby kid. Late in my high school career, I started lifting weights with very minor success. Throughout college, I ramped up my activity and even took up a little jogging. By the end of college and the beginning of my post-college career, I was running about 17 miles a week and lifting 3 times a week. I was in good physical condition. I would run 5.5 miles in 45 minutes including my warm-up and cool-down with little effort. If you asked me to turn around and run a 6:XX mile, I'd have no issue. Still, I was always chubby. Now, I did a 2 week stint of Atkins back in high school with my parents just to see what it was all about, and it did work well at losing fat, so I knew for years that carbs were mostly responsible for fat gain. I wasn't willing to give up my homemade pizza, pasta and bread, so I just simply tried to run more and tried to make improvements to my diet.
When I was 23yo and first started working after college, I weighed about 150 pounds. While in college, my roommates and I purposely moved a mile off campus so we'd be forced to walk at least 2-4 miles a day for classes. Now that I was sitting in an office all day, the weight started to creep up on me. I switched to all whole grains and even bought my own meat slicer so I didn't eat processed lunchmeat. My lunches were a whole wheat tortilla wrap with sliced homemade meats and cheddar cheese with veggies and an apple - above and beyond healthy compared to the average American. Still, my weight creeped up to 165 pounds and nearly a 34" waist at my desk job. Staring at myself in a dressing room mirror one day, I knew I needed to make a change. Remembering the success I had with Atkins, I started researching low-carb diet plans on body building sites. I eventually settled on a ketogenic diet with a much more intense weight lifting plan that I did for 7 weeks. I had great success and dropped back to 150 pounds, but I had more muscle than when I started! That was at the time the best shape I had ever been in in my life.
While I quit keto after the 7 weeks, I maintained a relatively low-carb diet for the future. I kept my whole wheat wraps, but limited my pasta intake to no more than 2 meals a week. I cut back on bread at all times. Over the next 8 months, I got down to 145 pounds, but I was considerably stronger than I was post-college. At some point during all of this, I stumbled across Mark's Daily Apple, and that sent my entire life into a tailspin! About 3 months ago, I decided to go Primal! When I began my own Primal journey, this is what I looked like: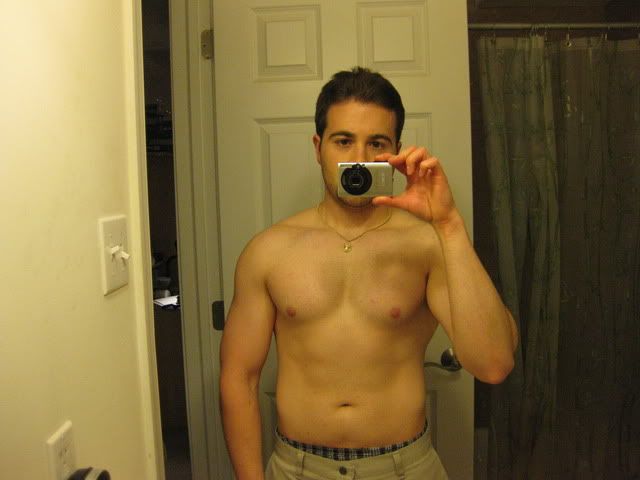 Again, I wasn't exactly "fat", but I definitely had a good bit of fat to lose. After going Primal for six weeks, I felt better than I had ever felt in my life! Knowing everything I know now, Primal cannot be beat for health and wellness! However, there was one problem...
I wasn't really losing any body fat! Yes, my waist was about 1" smaller, but after 6 weeks of no bread, no pasta, no rice, no beans, no potatoes and no milk - all the staples of my diet that I LOVED - was it really worth depriving myself of that for one lousy inch and a little bit more energy?
Being as I've been researching body building websites for a year at this point, I knew about "carb cycling" and that body builders used it to great success for awhile. I just didn't know how it worked initially when I went on keto. However, thanks to all the reading I've been doing since going Primal, I now have a firm foothold on the "carb refeed", what it does and why it's so effective. After a brief 48 hour refeed and then snapping back into the Primal eating plan for a week, I saw more fat loss than I did on the 6 weeks of Primal.