Hello, first of all.
I'm a 19 year-old female, 5'2'', 88 lbs with a history of dieting of about 3 years.When I started, I had a normal weight at ~115 lbs, was able to eat everything and when and often I wanted to, was pretty active but I started considering that I should lose weight (I had some fat that I considered iiaesthetic). So started dieting and exercising more, lost some lbs but after that deprivation I couldn't resist and started eating all the time for 2 months or so, when I reached 126-127 lb, stopped and started seriously dieting, CW style, of course. I was eating almost 1000-1200 kcals a day, mostly from carbs, little fat, some protein but not too much.I lost weight, reached to 103 lbs until I started reading about low-carb diets and started ditching'em little bit little and another weight loss happened.
6 months ago I discovered the PB style which I was trying to follow, but was still eating too little fat, mainly because I was afraid of no exceeding my caloric intake (which was 1200-1300 kcals daily).And was also exercising too much, 2-3 days of weight training, one day HIIT, one day of karate and later on added one day of sprinting.
And now I have reached to 88 lbs and having period problems, in that I haven't had my period for months now(and this has been happening for 1 year and a half, with fluctuating periods) and what I guess (by what some members of the forum told me) some thyroid problems, that is a high TSH and a low T3 (had my bloodlevels checked).
I have read mary shomon's articles and I will go to an endo and also try to gain weight in order to get healthy ( I guess that both fat and muscle), but I don't know what my macro should be and what exercises to do(I know I have to exercise less).
For example, this is what I ate for today since now: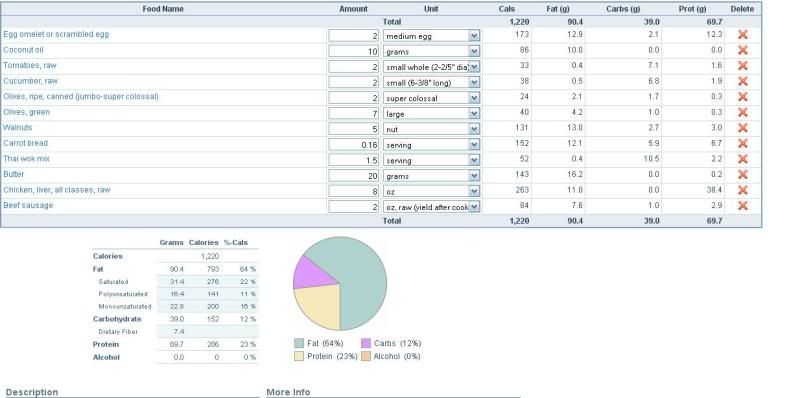 and shall continue with a dinner salad: avocado,walnuts oil and vegetables.
Are those macros ok or should I add some more carbs ? And what type of exercise should I be doing ( I was advised to do 2 tabatas a week, should it be oke ? I would like, if I gain fat also, to be distributed evenly, I mean not on the abs or thighs).
Sorry for the long post and I hope I haven't been debitating around here.