Hi Hannah, it's great to read your thread and you are making fantastic progress.
I personally don't have noodles or rice of any kind because I overeat on them. Spaghetti squash is a fantastic noodle replacement that I enjoy myself. I find eating Primal much easier when I have convenient "safe" snacks as well as an arsenal of recipes.
Some of my favorite places for food browsing are Chowstalker.com (and dessertstalker.com although some of these concoctions can be nasty). Some other places I also gather recipes from are NomNomPaleo.com, PaleOMG.com, livingintheiceage.pjgh.co.uk, paleofood.com, shecookshecleans.net, thespunkycoconut.com, and cupcakesomg.blogspot.com to name a few.
What I typically do is follow website RSS on an aggregator like Google Reader (this service is defunct now), Feedly or Pulse; browse for recipes that catch my eye; and then import or save them to a recipe database (I use Pepperplate). This way I can search for recipes by keyword.
I have no found a good muffin recipe as of yet but I have discovered some pretty awesome tasting things. Here are some of my favorites:
Prawn & Enoki Chowder
by LIVING IN THE ICE AGE
YIELD 4 servings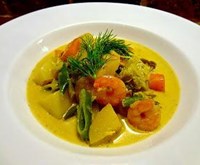 This is a wonderfully earthy, warm soup perfect for cold weather. The mushrooms take on a fantastic meaty texture. Either add the shrimp toward the end or cut them up in pieces because they have the tendency to overcook.
INGREDIENTS
3 green onion
15 baby carrots carrots (or other root veggies)
2 cups chicken stock or fish stock
1 lb shrimp
3.5 oz enoki mushrooms
5 springs parsley
1 cup heavy cream
INSTRUCTIONS
Saute green onion, add to stock.
Cube root veggies and boil in stock.
Add cut up prawns, mushrooms and any supplementary green things. Add water if the soup reduces too much.
Add cream, reduce.
Final consistency is relatively thin.
---
Creamy Tomato Basil Chicken Pasta
by TGI PALEO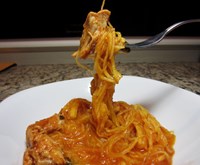 Fantastic use of spaghetti squash, and such an easy meal to make. It calls for chicken but I think ground beef would be good in this too.
INGREDIENTS
1 Large Spaghetti Squash, roasted and cooled
28 oz Tomato Sauce, canned or home-made
1 c Canned Coconut Milk
1 t Garlic Powder
Salt and Pepper to taste
1 c Fresh Packed Basil, finely chopped
2 lbs Cooked Chicken, shredded
INSTRUCTIONS
Heat a pot over medium-high heat. Add the tomato sauce, coconut milk, seasoning, and basil. Bring to a boil, then reduce heat to a simmer. Add the chicken. Let simmer for 15 minutes.
De-seed the spaghetti squash and fork out the strands into a serving bowl. Pour the sauce on top and toss to coat.
---
Fluidless Coconut Flour Pancakes
by FROM FRIES TO FIT
YIELD 2 servings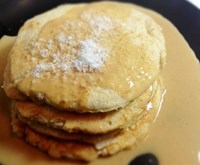 These need to be smallish in order to flip well. I let them brown well to promote good flipping. Even if they tear, they still taste good. This is the best coconut flour pancake recipe I have found. I use vanilla extract though. I like to eat mine with a little maple syrup or honey. The coconut flour is super filling though.
INGREDIENTS
4 eggs
4 tbsp coconut flour
2 tsp vanilla bean extract or paste
2 pinches of cinnamon
INSTRUCTIONS
Grease your pancake pan
In a bowl, mix all ingredients.
Use a spoon to dollop onto pan. The mixture may be a bit thick, so you might have to form them a little.
Cook until edges are brown and sturdy and then flip carefully.
---
Pumpkin Spice Waffles
by THE FOODIE AND THE FAMILY
YIELD 8 waffles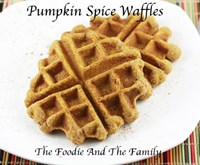 These are also great. Best waffles I have tried. The only secret to cooking these is to oil the waffle iron, even if it's nonstick. Mine come out of my electric, nonstick waffle iron perfectly with a little coconut oil rubbed on it before splatting the batter in. The batter is thick though and you will need to smooth it over the iron. Luckily, the batter doesn't expand crazily like conventional waffle batter, so overfilling isn't as much an issue. These taste incredibly close to "normal" waffles, just denser. Again, good with honey, syrup fruit, or heavy cream poured over the top.
INGREDIENTS
1/2 cup coconut flour
1 tablespoon cinnamon
1/2 teaspoon nutmeg
pinch of ground cloves
1/2 teaspoon baking soda
8 egg yolks
1 cup pumpkin puree
1/4 cup coconut milk
2 tablespoons maple syrup
8 egg whites
INSTRUCTIONS
Preheat the waffle iron to the setting you prefer.
In a small bowl, combine coconut flour, cinnamon, nutmeg, and baking soda. In a large bowl, whisk together egg yolks, pumpkin puree, coconut milk, and maple syrup. Beat the egg whites until they have soft peaks.
Pour the dry ingredients into the wet ingredients and whisk until well combined. Stir in 1/4 of the egg whites and then fold in the remainder of the egg whites, until they are thoroughly combined. Pour a 1/2 cup of batter onto the waffle iron and cook as per waffle iron instructions.
---
Oven Omelet with Sweet Potato Crust
by THE SPUNKY COCONUT
YIELD 2 pies (I typically only get one)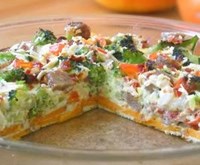 This is my go-to frittata. The sweet potato bottom doesn't get crispy or anything but it really is delicious. I make this with turkey ham and whatever I have left laying around. The sundried tomatoes impart a ton of flavor, I would not skip them. The tomatoes plump up nicely during baking and are the best part of this frittata.
INGREDIENTS
8 whisked eggs
1.5 tsp Herbamare seasoning
1 finely chopped sauteed onion
1 finely chopped sauteed red pepper
2 cloves minced sauteed garlic
2 cups lightly steamed, thinly sliced broccoli
1 cup sliced sausage
1/2 cup Daiya or other dairy-free cheese
1/2 cup finely chopped sundried tomatoes
INSTRUCTIONS
Lightly grease two pie dishes. Thinly slice one sweet potato, and arrange it around the bottom of the pie dishes.
Pour omelet mixture over top.
Bake at 350 for about 40 minutes.
---
Coconut Egg Nog
by PRIMAL SMOOTHIES
1 serving (sort of big one though)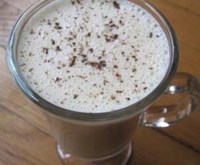 This is one of my favorite breakfast smoothies. I love making this when I am in a time crunch. The eggs and coconut milk are satisfying and I am full until lunch. The clove and nutmeg combo taste like the holidays and luxury (to me anyway). This is more smoothie-like than egg nog but it is reminiscent of egg nog anyway. I use Splenda instead of palm sugar but I am sure any manner of sweeteners would be appropriate. You could also go without them if you like the spice-y flavor and egg yolk. I have tried adding the whites to this recipe to save from wasting them but the creaminess of the smoothie is affected.
INGREDIENTS
1 Cup Coconut Milk
4 Large Egg Yolks
1 TBSP Coconut Palm Sugar
1 tsp Nutmeg, Ground
1/2 tsp Cloves, Ground
1/2 tsp Vanilla Extract
1/4 Cup Ice
INSTRUCTIONS
Blend.
---
These are just a few exemplary recipes that I have collected and cooked for myself. Another good breakfast idea is sauteed fruit like apples, bananas, whatever is around, egg, and seeds/nuts with heavy cream poured over the top after cooking. It's a quick and tasty recipe as well.
Another quick breakfast includes mashing a banana with an egg and frying it in a pan like a pancake. It's surprisingly bread-like with a sweet banana flavor. I normally don't add syrup to that one.