Current Stats and Pics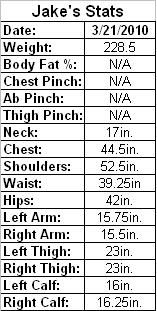 Weekly Training Schedule:
Monday: Lift
Tuesday: Lift (AM) and BJJ (PM)
Wednesday: Recovery and BJJ (Optional)
Thursday: Lift (AM), MMA and BJJ (PM)
Friday: Lift (AM) and BJJ (PM - Optional)
Saturday: Recovery
Sunday: Recovery or free workout
BJJ = Brazilian Jiu-jitsu
MMA = Mixed Martial Arts
I utilize kettlebells for 90% of my lifting and most of my lifting is done to supplement my BJJ game.
I do try and throw in several yoga sessions a week because I enjoy it and want to become my flexible. I follow Diamond Dallas Page's "Yoga for Regular Guys" DVD for this.
Diet:
The Primal Blueprint
, of course!
Supplements:
Max GXL
Multi
Fish Oil
Joint
Goal:
Lose 33 pounds by 10/2/2010 (My 25th Birthday).