I think I'm doing it wrong! And I'm thrilled!
My Primal journey has been an interesting one. Here I am 14 months in and I feel like I've been doing this for a lifetime. I've experienced a lot, and I've learned a lot. I've had some fantastic successes and some huge failures. On the whole, this has been the most exciting and enlightening experience of my life, and I owe my newfound health, energy and strength to mainly two people: Mark Sisson and Martin Berkhan. I am a new person and barely recognizable from who I was a little over a year ago. Since graduating college in 2009, old friends I bump into that I haven't seen since college barely recognize me. It's not just the dramatic change in my build and the improvements in my hair and skin, but the newfound confidence I radiate. I've grown up my entire life being uncomfortable about my body. I was always one of the smallest, chubbiest and weakest people in the room (despite being born with very good hand-eye coordination). Though I've never been fat, I've always been embarrassed of my body, and the shyness carried through. For the first time in my life, I stand out in a crowd instead of blending in, and I owe it all to this lifestyle and those who supported me throughout my journey.
That being said, it's been FAR from a smooth ride. I've learned a lot and altered my body composition significantly, but I've hit a serious plateau recently. When I first began my Primal journey, I was under the impression that it wasn't about calories and "all about insulin." My first few months, I was strictly low carbohydrate all the time. While my health improved dramatically, I attribute it to dropping grains and sugars, not being low-carb. My strength and body composition didn't really improve dramatically until I started cycling carbohydrate - high on lift days (and therefore low fat to compensate) and low on off days (and therefore higher fat). However, since then, I've suffered some setbacks.
I really started delving deep into calorie theory. I did two 6 week cycles on the Ultimate Diet 2.0. This taught me all about calories and how they really affected my body composition. I got leaner than I ever had been in my entire life, and I felt awesome. But then something happened. My 12 weeks of hard work entirely disappeared in 2-3 weeks of eating normally. Actually, I put all the fat I lost back on and then some, and I wasn't overeating because of my hunger. It was so disheartening - all that work for NOTHING! So, I took some time off and let it ride. Starting in March, I decided to dive back in, but cycle calories more conservatively using the Leangains-method.
According to calorie calculators and equations, my maintenance is around 2,400 calories being a moderately active 25 year old male. With a classic -20%/0% (off day/lift day) caloric split, that would put me around 1,900 calories on off days and 2,400 calories on lift days. After my UD2 experience, I decided that wasn't aggressive enough. I decided to go 1,600/2,200. And it seemed to be working. But then, it kind of stopped. Out of frustration, I took two weeks off. All the fat piled back on just eating normally. More frustrated, I went more aggressive. I did 1,300/2,200. This time the fat stopped coming off. This went all the way til Memorial Day. After a few days of heavy BBQ indulgence, I decided I'd really buckle down and do a one week PSTM. That took me all the way up until today. In the past 2 days, I've worked a total of 25 hours on about 1,200 calories (estimated). I've eaten nothing but super lean beef and greens. I felt like shit. And then it hit me like a ton of bricks.
I'm getting obsessed.
For the past few months, I've totally crushed my metabolism. All my lifts were going through the roof, and for the past 6 weeks I've fallen flat on my ass. I can't lift anymore, my recovery is down and I haven't been losing fat, even though I've been cutting pretty hard. Well, maybe, JUST MAYBE I've messed up my metabolism and my body thinks it's starving? Brilliant deduction. And maybe because it thinks it's starving, it's immediately piling on all excess calories into fat storage at all times? Even more brilliant deduction! Maybe, just maybe...I'M DOING IT WRONG! So, I feel it's time to do a TRUE experiment, Leangains-style for all to see. The experiment will consist of:
- Eating more fat
- Eating more carbs
- Eating more protein
Wait, I think I'll just EAT MORE FOOD! I'll actually follow the plan this time instead of trying to go harder for the sake of fast results. I've tried that, and the end result is I've gotten the chubbiest I've been in 6 months, while simultaneously I've been the hungriest. Eat my way thin? Is it possible? We'll see if I crash and burn. So here's the rules:
I'm doing this for 8 weeks. This is where I'm beginning at. I took this picture immediately coming home from work (it's the chubbiest I've been in a long time
):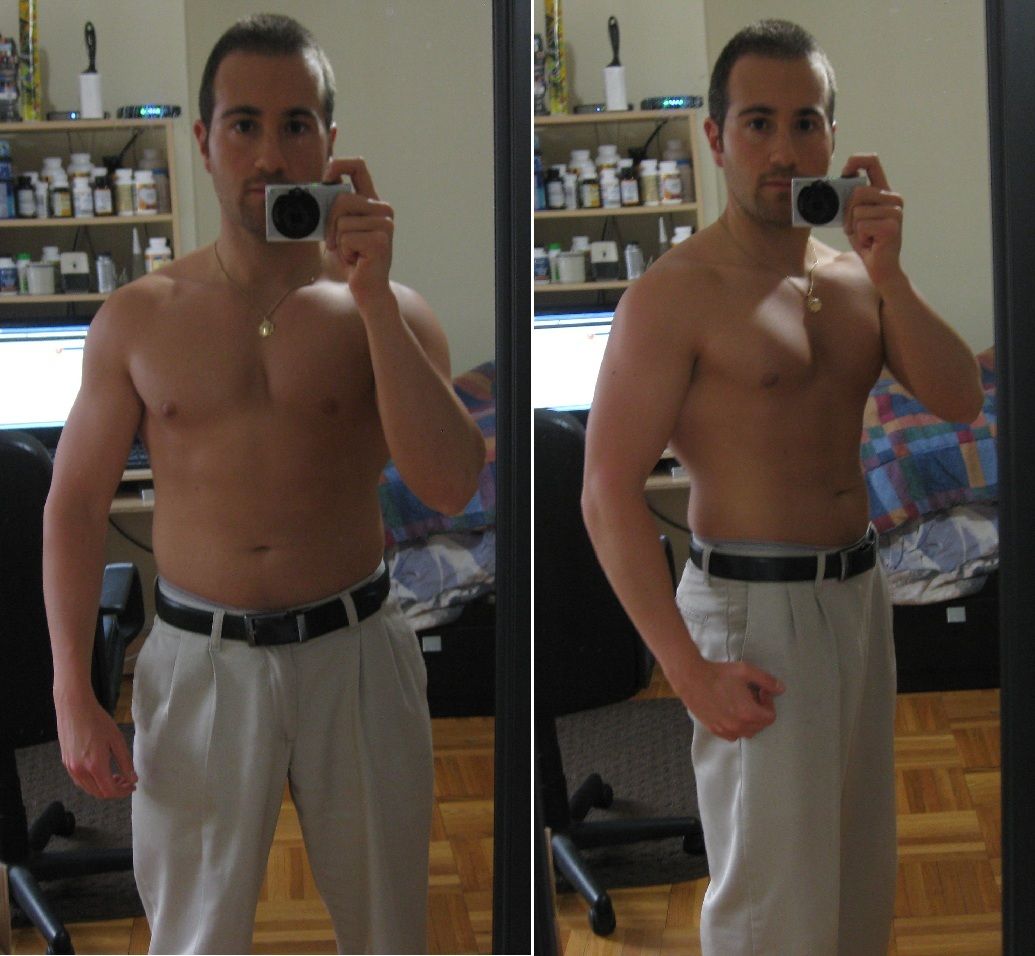 This is the plan I will stick to:
This will be the most food I have eaten in a long time. And I'm very, very excited.
I will be tracking calories as much as I can. Sorry, but it's the only way to see if the "eat more = lose more" experiment works. I won't physically be able to track 100% of the time, but I will try and have a strict 80% adherence (80/20 rule in effect!).
I feel this is a good time to begin because I essentially had a post-workout refeed on Saturday, a big BBQ on Sunday, a BBQ on Monday, and I just fed on a large meal right now to rev up my metabolism again.
There will be two photoshoots: one at week 4 and one at week 8, as well as a weigh-in on each. As of now, I weigh 144 lbs. I will track all my lifts as well to see strength increases (I will post tomorrow as my journal is in the trunk of my car) to see if I got stronger after the 8 week cycle.
There will be lots of Fitdays and lots of food porn. And to get things started, here is my kickoff meal I just crushed:
Three home-ground 95% lean burgers fried in bacon grease with two strips of uncured bacon, a pile of satsumaimo sweet potato fries and a bowl of pumpkin yogurt with creme frainche and chocolate syrup topped with walnuts.
My goal at the end of this experience: to prove to myself that I've been doing it wrong the past few months, and the true path to fat loss is the SLOW road. Aggression seems to lead to failure. Maybe it's crappy genetics, and maybe this experiment will be yet another thread detailing "what not to do." Whatever happens, I invite you along for the ride. Clearly, eating less and less food seems to be making me fat. So maybe I really CAN eat myself thin.