Sorry, this is copy and pasted from the "what was your turning point" Thread I figured it woudl also make a great introduction about myself and how I ended up here.
Micheal Davis

5' 10 171 lbs

BMI 24.6

Fat 22.8%

Muscle 37.6%

Viceral fat 7

Body age 41

Resting metabolism 1734
My whole life I had been on the light side. i weighed 120lbs all through highschool. I stayed really light until a few years ago when i started my new job. I was 145 when I started.
Easy work, no manual hard labor and payed really well.
I quit smoking shortly after starting there. i replaced cigarettes with food, I was not eating healthy.
We would go out to eat all the time, ribeyes and bbq every other night.....before I even realized what happened I was up to almost 200lbs in less than 6 months.
over the next two years a few more pounds packed on.
I would get winded climbing the stairs, my knees hurt like hell all the time.
Finally one day I was sitting on the stairs like I did every morning, I went to put my work boots on.
I had to suck in and hold my breath to be able to bend down enought to tie my laces. If I didn't get them tied in time I would have to come back up for air.
Thats it! Enough is enough!
I had been wanting to do p90x for years but could never afford it. A friend of mine was nice enough to let me have her disks, I was focused and determined. I followed the meal plans and became obsessed with eating healthier and working out. in 90 days I got down from 226 lbs to 182lbs. I know its not a ton but it was very motivating (sorry I know this isn't a p90x forum just sharing what lead me to this point)
I kind of took the winter off, i was still eating somewhat healthy but not really working out any more. This spring I got back at it. I was back up to 190lbs. I started doing p90x again but half way through started over with a P90x insanity hybrid. I was in my phase 3 at 172 lbs when i injured my back pushing myself too hard.
currently I am not able to work out due to muscle inflamation pinching a nerve and what I keep trying to tell my doctor is a messed up disk (need to find a new doc )
Any how, About a two months ago my wife had discovered the paleo life style and was trying to sell me on it. I really didn't pay that much attention to it since I was so focused on my current diet and exercise regemine. I didn't eat much breads to begin with altho I would have the occasional carb smart tortilla. After my injury I wasn't able to work out any more...hell I couldn't (cant) even mow the lawn without my arm and neck tingling and going numb.
I started getting bored and decided to do some research on this paleo thing my wife was talking about. So far the basis makes perfect sense. I still have a lot of reading to do but thanks to google its pretty easy to figure out what foods are acceptable. I started practicing a week ago but had a final cheat over the weekend. I started officially Monday, sadly I have been meeting a lot of resistance from my wife who was the one that was trying to sell me on the idea in the first place. She was singing a different tune last night after my spagetti squash with a bolognese suace though. She said it was one of the best meals i have ever produced...unlike tonights chicken stir fry without tamarin...it was a flop.
anyhow, this is my first post here so please also concider this my official introduction
ohh heres a fatty before and after pic...still not ripped but on the way there
60 days later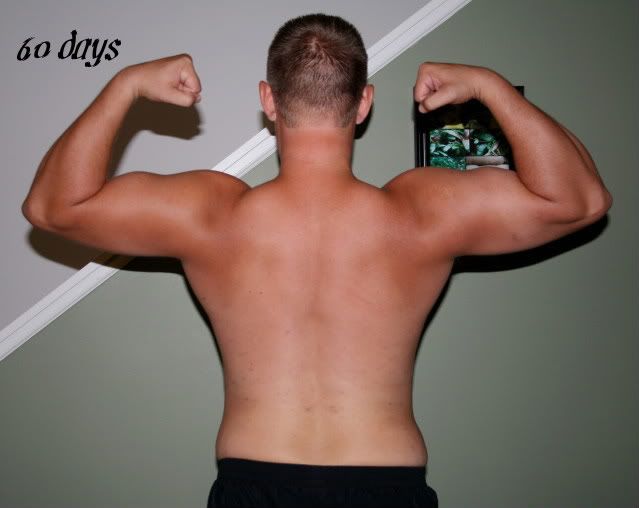 and around 178 lbs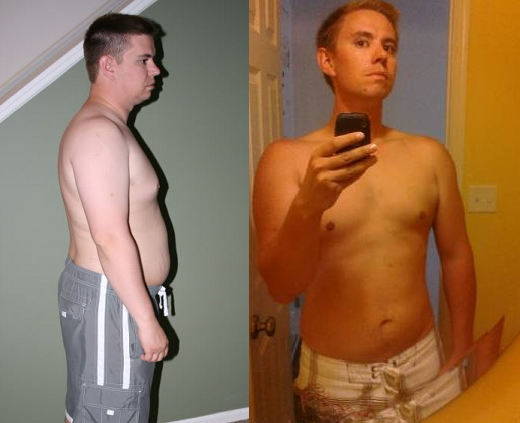 No more holding my breath thats for sure! currently 171 but lost a lot of muscle tone since I have not been able to move any weights.
I look forward to sharing my journey with you guys and hope to pick up lots of tips.
We just joined a CoOp and hopefully will be stuffing the fridge full of grassfed beef soon. Whole foods is about 30min from here so every payday we load up there and I have a organic farm right down the street where I can pick up odds and ends when needed. They always seem to be out of fresh eggs (free range chickens) I should start stopping by first thing in the morning instead of after work