Hi all.
I'm tentatively starting this, so I can log my progress. I MUST see progress or I won't stick with this. And since I have a lot of weight to lose, I won't see it just by looking at myself.
Major checkpoints:
Daughter1's birthday, Jan 21: 42/35/45, 196 lbs
Spring Equinox, March 20: 38/32/40, 184 lbs (I will update this tomorrow with more accurate measurements)
My wedding anniversary, May 30
My birthday, July 29
Autumnal Equinox, Sept 23
Thanksgiving, November 25
Starting Measurements: Hips: 45
Waist:37
Bust:44
Current:
Hips: 40
Waist:32
Bust: 38
Gonna be one sexy hourglass when I get down to goal!
Weight: I don't own a scale, nor will I, but last I checked, I was 190. My parents have a scale, and I visit them every few months, which is just about right.
Current weight: 184
BMI: 34- I believe they call that "morbidly obese"
You have 26.9% body fat.

You have 51.1 Pounds of fat and 138.9 Pounds of lean (muscle, bone, body water).
Picture (I hate my face):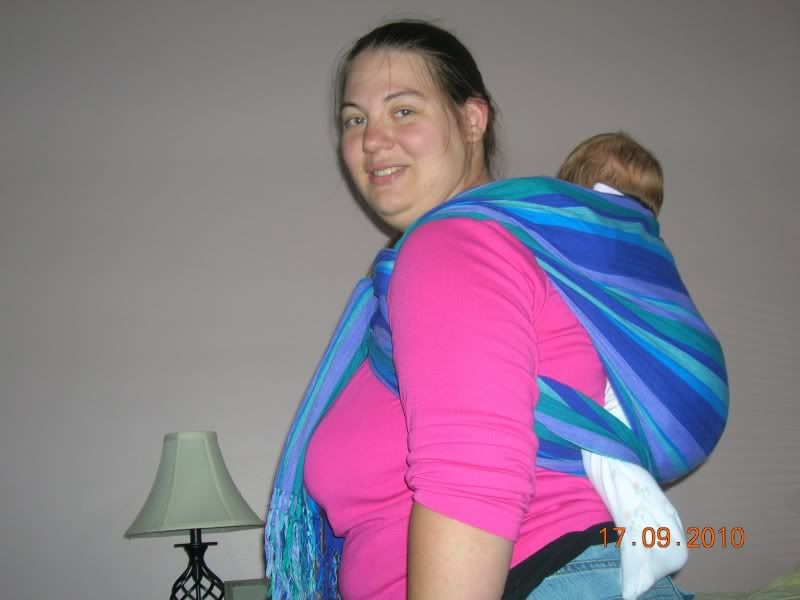 This is my "YEAH! It took me 5 months, but I finally got my baby on my back!" picture.
I'm going to take one of me in a dress I want to fit into, and show my progress that way.
Food log: I won't call it "daily" because I'm not sure how often I'll do it, but I'm posting in Fitday, and I'll try to figure out how to post the pie chars of macronutrients up here, because that's what I'm mainly concerned about. I want the right ratios, and want to keep the carbs low.
Aiming for 100g protein and 50 g carbs (max) per day. KISS.
Calories around 1700-1800
Other stuff: rants about how much I hate exercise, internal stuff to deal with while losing weight, and the like.
So... hello, world!