Physical went well. All the urine went into the cup without incident. Good thing I decided to give up meth, huh? Since I knew i would have to give a sample, I had been holding it in since leaving the house. By the time they called me back I was doing
the dance
in the lobby, and I begged to please do the urine screening first. the only minor glitch was that I had to have my BP taken again because it was too high the first time(which is weird for me since I've always been on the lower side). The problem was they took it immediately after the hearing test. That thing freaks me out and i always think I'm going to fail. I have had tinnitus since as far back as I can remember, and the tone that they are lightly playing in your ear for the test are very similar to the tones I hear all the time already. They said I passed, but I was actually sweating while sitting in the booth trying to concentrate. So there was a bit of a fight or flight thing still going on when they wanted to test the BP. they did it again a little latter and I was back to normal, so crisis averted.
I got to go into Pittsburgh for the test. It is a very confusing city, but I only got mildly lost and only added about 15 minutes onto the drive. It's actually a really nice looking city. I had a nice view from the doctor's office.
Here is the stadium(Guess I have to be a Steelers fan now)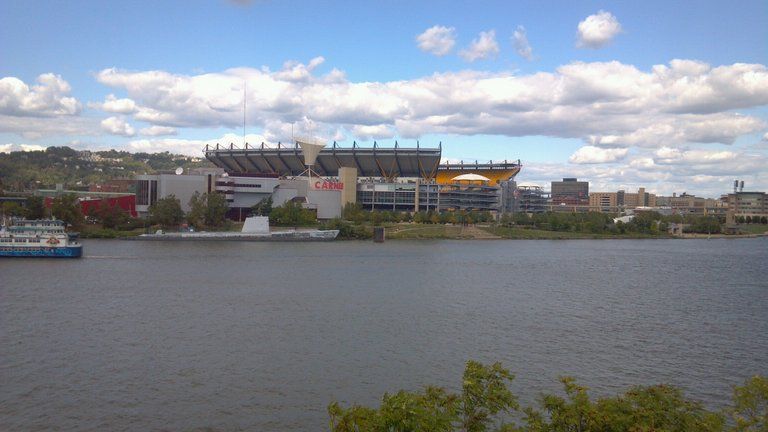 And here is the downtown skyline.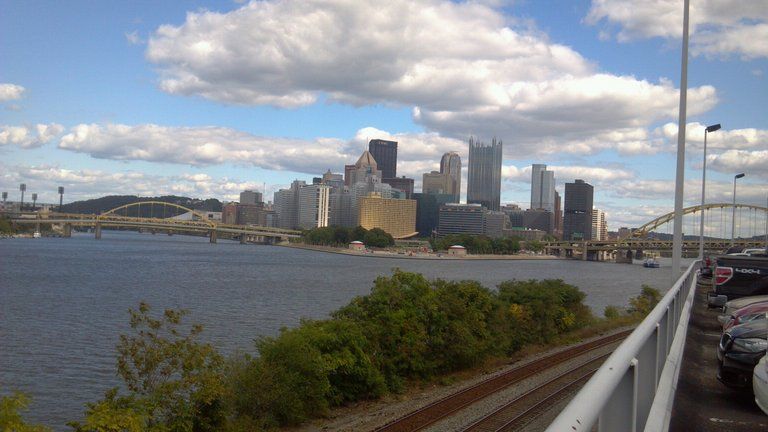 I was going to workout, but I feel like shit. Since my youngest is now in preschool AKA
"The Petri Dish"
, she already brought a bug home. First her, then the oldest, and now me. Fun times. I still will be cooking up some steaks here in a little bit, so it's not all bad.