I started this little journey on April 1st 2010 and am doing extremely well. I have lost 65 pounds.
I decided to add in some exercising about 2 weeks ago and have been hiking the local trails and doing some very minor strength work. I still can't do a pull up but I am sure I will.
Today I Tried to do some simple crunches. Nothing major just see if I could feel my abdominal muscles. And this happened.......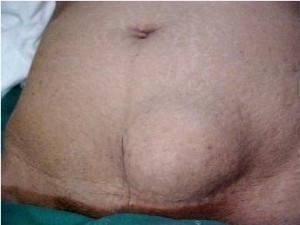 Mine is a about halfway up on my left above the navel and as large as a big coffee cup. Sticks right out like a hand.
For the most part I can control it and as of now does not hurt. If isolated I can keep the bulge from appearing but breathing seems to cause it to extrude even further so I would have to do crunches with out breathing. I still did about 15 or so before I noticed and stopped. It was like a science fiction movie cumming to life.
I know a very good surgeon so I will go see him and see what he thinks about it. I'd also like any info or experience you all have so I can do my research on what path to take. For now I will go with no crunches until I can figure out what to do.