WORKER BEES' DAILY BITES
Soft Drinks Disrupt Your DNA
Yikes! Even diet soda is unhealthy for you.
What's It Like to Go Global?
The complex and interesting web of global food production.
Is Cancer a Virus?
Is cancer a virus, a fungus, an autoimmune disorder, a collection of symptoms? Oncology just got a lot more complicated.
What Are Gourmet Chefs Up to These Days? Foie gras ice cream and truffle popsicles, apparently. This is a fascinating picture-filled piece about avant garde culinary feats.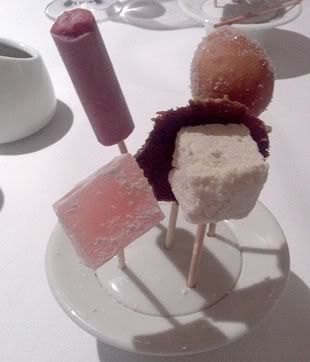 Link Love:
We've gotten some really nice feedback and reviews in the last few days. First, Highlight Health (a very spiffy health site from a biochemist blogger) was kind enough to add us to the blogroll. Then, Eating Fabulous, our favorite nutrition blog, gave us some love, and next, the original Daily Apple (yes, turns out, there is another!) reviewed us. The other Daily Apple covers all kinds of topics, but naturally we dug into the health posts, and we were really impressed. The health articles are all very useful, clear, and similar in format: an interesting introduction, a helpful list of points, and plenty of good references for every single topic discussed (a very nice thing indeed). And seize-the-health-by-the-horns Kevin was nice enough to nominate us for a Blogger's Choice Award! Thank you so much, everyone, for the encouragement and support.
Technorati Tags: blogging, global food production, cheese, gourmet food, health blogs, soda, DNA